Last
UPDATE OF PRICES
:
28.10.2021 09:37:02
Britannia 1 Oz - Gold Coin 1 635,38 €

Maple Leaf 1 Oz - Gold Coin 1 637,67 €

Maplegram25™ - Gold Coin 25 x 1g 1 434,83 €

Britannia 1 Oz - Gold Coin - 10pcs 16 322,75 €

Argor Heraeus / Heraeus 500g - Silver Bar 527,83 €

Kangaroo 1 Oz - Silver Coin - 100 pcs 2 986,09 €
INVESTMENT GOLD, SILVER, PLATINUM - 3SIGNA
   Our prices are updated every minute depending on the movement of stock prices in precious metals and the development of the EUR/USD.
   The prices on our website are final and valid at the time of order.
   Fixation takes place 7 days a week, 24 hours a day.
   For customers we are available at the time of 8:30 to 19:00 hrs, including weekends and holidays.
The main activity of 3signa, s.r.o. is the sale of investment precious metals. In today's economically unstable and uncertain times precious metals have become better suitable option for long term investment and one of the appropriate solutions for protection of your savings. This is the alternative that we are offering.
We focus primarily on investment gold - gold bars and gold coins, but our range also includes investment silver and platinum.
We offer a wide range of investment bars and coins from recognized manufacturers - Swiss Argor Heraeus SA, Austrian Mint Münze Österreich, Australian Perth Mint and others. Due to working with reputable suppliers, we can guarantee a 100% authenticity and purity.
From the investment gold range we highly recommend gold bars Heraeus or Perth Mint, and gold coins Kangaroo 1 Oz or Maple Leaf 1 Oz.
"By a continuous process of inflation, governments can confiscate, secretly and unobserved, an important part of the wealth of their citizens" John Maynard Keynes
---
LAST
UPDATE OF PRICES
28.10.2021 09:37:02
immediate fixation at the current price
fixation takes place 24/7
delivery of the goods the next day after sending
personal collection in Bratislava and Trenčín
prices on our site are updated every minute, are final and valid at the time of the order
for regular customers, however, we are also available outside working hours, including weekends and holidays
products labeled "In stock" we generally shipped on the day of the payment to the bank account, other goods are shipped during 3-7 working days
packages are sent in a special security cover and insured for the full value of the goods
office Bratislava - Seberíniho 9, office Trenčín - Legionárska 2
X
GOLD EUR/OZ
SILVER EUR/OZ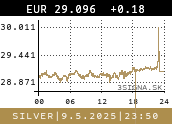 PLATINUM EUR/OZ