Last
UPDATE OF PRICES
:
01.10.2023 13:22:01
Argor Heraeus 1 Oz - Gold Bar 1 820,00 €

Britannia 1 Oz - Gold Coin 1 828,73 €

Kangaroo 1 Oz - Gold Coin 1 826,98 €

CombiBar 100 x 1g - Silver Bar 178,83 €

Arche Noah 1/4 Oz - Silver Coin - 500ks 4 407,44 €

Philharmoniker 1 Oz - Silver Coin - 500 pcs 14 657,88 €
Re-Purchase of Goods
Re-purchase prices on our site are updated every minute depending on the movement of stock prices in precious metals and the development of the EUR/USD and EUR/CZK.
The current re-purchase price is shown at individual products.
We re-purchase investment silver and platinum from individuals – in accordance with the tax laws – for the price without VAT.
      Slovak legal entities – VAT payers, will issue an invoice to us with an appropriate rate of VAT.
      EU legal entities - VAT payers, will issue an invoice to us without VAT.
We re-purchase precious metals also purchased from other vendors.
As well as in the case of sale, we treat each client individually for the re-purchase of goods. The course of this process may vary depending on the type and quantity of offered precious metals.
For your orientation, this is the basic procedure for the realization of re-purchase
1. Via e-mail, send us your offer, which must include: your contact details, product name and description of the condition, quantity, or photos.
2. After receiving your offer we will call you and introduce you to the next procedure of the re-purchase.
3. The place of re-purchase is in Bratislava office at Seberíniho 9, 821 03 Bratislava or in Trenčín office at Jilemnického 17, 911 01 Trenčín. Time and date of personal visits must be arranged in advance. Alternatively, goods can be sent to address Jilemnického 17, 911 01 Trenčín as a insured shipment through delivery companies. Cost of delivery of goods shall be borne by the client.
4. Upon receipt of the goods we will check and test the necessary parameters. Subsequently, the re-purchase price will be offered to you. Price fixing is carried out according to the prices in force at the moment of re-purchase realization.
5. In case you decide to accept the price, you will sign a re-purchase contract. Legal entities will issue an invoice to us.
6. After signing of the contract, money will be within 3-10 working days transferred to your bank account. Cash payment is possible by prior arrangement. Cash payments are governed by law and are limited to 15.000 EUR or the equivalent in CZK.
7. If you reject our offer, we will send your goods within 2 working days back to your address. The cost of shipment of the goods shall be borne by the client.
For additional questions, please don't hesitate to contact us.
---
LAST
UPDATE OF PRICES
01.10.2023 13:22:01
immediate fixation at the current price
fixation takes place 24/7
delivery of the goods the next day after sending
personal collection in Bratislava and Trenčín
prices on our site are updated every minute, are final and valid at the time of the order
for regular customers, however, we are also available outside working hours, including weekends and holidays
products labeled "In stock" we generally shipped on the day of the payment to the bank account, other goods are shipped during 3-7 working days
packages are sent in a special security cover and insured for the full value of the goods
office Bratislava - Seberíniho 9, office Trenčín - Legionárska 2
X
GOLD EUR/OZ
SILVER EUR/OZ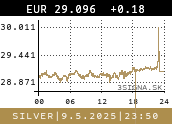 PLATINUM EUR/OZ