Last
UPDATE OF PRICES
:
01.10.2023 11:14:01
Argor Heraeus 1 Oz - Gold Bar 1 820,00 €

Britannia 1 Oz - Gold Coin 1 828,73 €

Kangaroo 1 Oz - Gold Coin 1 826,98 €

CombiBar 100 x 1g - Silver Bar 178,83 €

Arche Noah 1/4 Oz - Silver Coin - 500ks 4 407,44 €

Philharmoniker 1 Oz - Silver Coin - 500 pcs 14 657,88 €
Shipping & Payment
Personal collection
Personal collection can made in one of our offices in Bratislava or Trenčín. You can choose your preferred place during the order process.
Please note we do not hold any stock at the office premises, the time and date of collection therefore must be arranged in advance. We will make a contact with you regarding this. From the EU legal entities - VAT payers, we require for the personal collection in Bratislava and Trenčín "Declaration of Export" document.

| | |
| --- | --- |
| Office BRATISLAVA | OfficeTRENČÍN |
| Seberíniho 9, Bratislava 821 03 (2nd Floor, office Nr. 239) | Jilemnického 17, Trenčín 911 01 |

 

       

Shipping and handling

If you select "Shipping and handling (Insured shipment)" option during the order process, the goods are dispatched either through Slovak posting service or EMS delivery company. Goods are always packed in cardboard box, padded envelop and special security envelop.

Safety features - Individual numbered envelopes, security tape, and perforated sides. There is absolutely no opacity on the envelope. The envelop cannot be opened without visible traces.

 

We always insure the shipment for full value of the goods.

Postage and insurance are paid by the buyer. This amount is calculated during the order and also features in the final invoice. Price includes transport cost, insurance shipment for the full value of the goods and packaging. Shipping price is inclusive of VAT.

Goods labeled "in stock" are generally shipped on the day when the payment is credited to the bank account; other goods are shipped within 3-7 working days. You will be informed regarding the dispatch of the goods.

Slovakia - postage rates for shipments with a value of:

up to 495 EUR -

5 EUR postage


495,01 - 1.500 EUR -

8 EUR

postage

1.500,01 - 2.500 EUR - 10 EUR

postage

2.500,01 - 5.000 EUR -

14 EUR

postage

5.000,01 - 10.000 EUR -

20 EUR

postage

10.000,01 - 20.000 EUR - 26 EUR

postage

20.000,01 - 40.000 EUR - 60 EUR

postage

40.000,01

- 100.000 EUR - 100 EUR

postage

over 100.000 EUR - personal collection only

 

 

Payment Terms

 

Payment to a bank account

The customer is obliged to finalise the order by paying the final invoice as soon as it has been received. The invoice due date is two days, and the payment date is the date of crediting the amount to the account of the seller. Seller has the right to ask the customer to send a copy of his or hers payment order which can be sent via e-mail.

Payments in EUR

Tatra banka, a.s., Slovakia: Account number: 2927879208/1100, IBAN: SK51 1100 0000 0029 2787 9208, SWIFT (BIC): TATRSKBX
Fio banka, a.s., Slovakia: Account number: 2400552356/8330, IBAN: SK19 8330 0000 0024 0055 2356, SWIFT (BIC): FIOZSKBAXXX

Payments in CZK

Fio banka, a.s., Slovakia: Account number: 2800552363/2010, IBAN: CZ92 2010 0000 0028 0055 2363, SWIFT (BIC): FIOBCZPPXXX

 

Payment in cash

Payment in cash is possible by appointment only upon the personal collection of the goods. We accept cash payment in the amount prescribed by law, up to 15.000 EUR/day/customer. In the case of a cash transaction over 10.000 EUR, the client is obliged to identify himself in the sense of Act 297/2008 Coll.  on the Prevention of Legalization of Proceeds of Criminal Activity and Terrorist Financing and fill in the Client Declaration.

 

Payment on delivery

Orders with payment on delivery are available only in Slovakia at the request of the client with the total value of order up to 500 EUR. If you are interested in this method of payment, please inform us of this fact in the last step of the order in the "Note" section or send us an additional e-mail. We do not charge any additional fees for payment on delivery, postage rates are the same as those listed above.

 

Payment by card

Card payment is currently not possible. Thank you for your understanding.
---
LAST
UPDATE OF PRICES
01.10.2023 11:14:01
immediate fixation at the current price
fixation takes place 24/7
delivery of the goods the next day after sending
personal collection in Bratislava and Trenčín
prices on our site are updated every minute, are final and valid at the time of the order
for regular customers, however, we are also available outside working hours, including weekends and holidays
products labeled "In stock" we generally shipped on the day of the payment to the bank account, other goods are shipped during 3-7 working days
packages are sent in a special security cover and insured for the full value of the goods
office Bratislava - Seberíniho 9, office Trenčín - Legionárska 2
X
GOLD EUR/OZ
SILVER EUR/OZ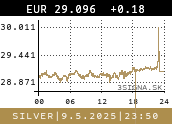 PLATINUM EUR/OZ