Last
UPDATE OF PRICES
:
23.03.2023 19:44:01
Britannia 1 Oz - Gold Coin 1 943,78 €

Maple Leaf 1 Oz - Gold Coin 1 962,65 €

Argor Heraeus / Heraeus 250g - Silver Bar 275,48 €

Argor Heraeus / Heraeus 1 kilo - Silver Bar 970,17 €
Purchase
1. The prices on our site are updated every minute depending on the movement of stock prices in precious metals and the development of the EUR/USD. Prices are also updated during the order process.
2. All prices on our website are inclusive of VAT, are final and valid at the time of order.
3. After the order confirmation, the seller sends via e-mail to the buyer a final invoice for the goods ordered.
4. The buyer is obliged to arrange a payment of the final invoice promptly after receipt by a bank transfer to the seller's account given on the invoice. The invoice due date is two days, and the payment date is the date of crediting the amount to the account of the seller.
The seller has the right to ask the buyer to send a copy of the realised payment via e-mail.
5. Payment in cash is possible upon the personal collection and by prior arrangement with the seller up to the amount prescribed by law, i.e. 5.000 EUR.
6. Cash on delivery is possible at the request of the client only within the Slovak Republic to a total value of order up to 500 EUR. For payment on delivery we do not charge any fees.
Business Hours
1. Fixation takes place 7 days a week, 24 hours a day.
2. Communication with customers takes place at the time of 8:30 to 19:00 hrs.
3. For regular customers, however, we are also  available outside working hours, including weekends and holidays.
Order and Purchase Contract
1. By sending the electronic order, the buyer confirms that he agrees to the Terms & Conditions.
2. For purchase order to be deemed valid, it must contain the following information:
personal information of the buyer (name, e-mail address, telephone number, billing address, shipping address, or company name, ID and VAT number), name of product, quantity, delivery method Customer registration on our website is not necessary to create the order.
3. After your order is sent off, you will receive an e-mail confirming the receipt of this order.
By confirmation of the order, the purchase contract between the seller and the buyer is concluded and binding. Buyers cannot withdraw from the contract the subject of which is the sale of goods or services whose price depends on fluctuations in the financial market, which the seller cannot influence.

Realised orders from the customer are orders with payment obligations.
---
LAST
UPDATE OF PRICES
23.03.2023 19:44:01
immediate fixation at the current price
fixation takes place 24/7
delivery of the goods the next day after sending
personal collection in Bratislava and Trenčín
prices on our site are updated every minute, are final and valid at the time of the order
for regular customers, however, we are also available outside working hours, including weekends and holidays
products labeled "In stock" we generally shipped on the day of the payment to the bank account, other goods are shipped during 3-7 working days
packages are sent in a special security cover and insured for the full value of the goods
office Bratislava - Seberíniho 9, office Trenčín - Legionárska 2
X
GOLD EUR/OZ
SILVER EUR/OZ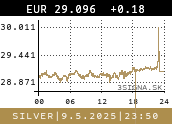 PLATINUM EUR/OZ