Last
UPDATE OF PRICES
:
13.12.2019 12:20:03
Perth Mint 10g - Gold Bar 449,28 €

Perth Mint 1 Oz - Gold Bar 1 353,67 €

Canada Voyageur 2017 1 Oz - Gold Coin 1 445,81 €

Philharmoniker 1/4 Oz - Gold Coin 362,87 €

Britannia 1/10 Oz - Gold Coin 161,41 €

Maplegram25™ - Gold Coin 25 x 1g 1 217,79 €

Philharmoniker 1/25 Oz - Gold Coin - 20 pcs 1 376,96 €

CombiBar 100 x 1g - Silver Bar 135,97 €

Arche Noah 1 Oz - Silver Coin - 20 pcs 489,60 €
Krugerrand 1/10 Oz - Gold Coin - 10 pcs
Producer:
Rand Refinery (JAR)
Weight:
33,93g
Fineness:
916,7
Dimensions:
16,5 x 1,3 mm
Denomination:
-
Availability:
3 - 7 Days
PRODUCT DETAILS
Gold coin Krugerrand was first issued in 1967 and was the first gold coin that was sold at the market for the price of gold. Old gold coins, such as sovereign (English gold coin) had the market price according to the denomination value, which was stamped on them and no longer fitted the current market value of gold. Krugerrand was also the first gold coin that contained exactly one ounce of gold. With its release 1 ounce (1 Oz) weight was then adopted as a standard for minting coins, which contained exactly one ounce of pure gold.
The Krugerrand coin began being serial-line produced in 1970 and throughout a period of 9 years (1970 -1979) they were the only 1 Oz coins on the international market, which made them the most widely used gold coins in the world with very high liquidity. Krugerrand is easy to buy and sell around the world. Its worldwide success has stimulated many countries to start issuing their own 1 Oz coins.
Gold coin Krugerrand has no denomination value and its value depends solely on the current gold price. Krugerrand has 916.7 fineness (22 carats) and comes in four variants: 1 Oz, 1/2 Oz, 1/4 Oz and 1/10 Oz. For added strength of the coin copper is added, which affects the color.
The South African Krugerrand is official tender and meets all the requirements and characteristics of gold investment coins.
The obverse of the Krugerrand gold coin displays Former South African President Paul Kruger (1883-1902). The reverse side depicts antelope, which is the symbol of South Africa.
Unless specified in the product name, the minting year of gold coins is not distinguished.
Price Monitoring

»
PRICE MONITORING
To get the information about changing product price, please fill in the required information. You will be automatically notified by e-mail.
Each product is monitored for 20 days. After this period tracking is automatically cancelled.
When activated, you will receive an automated message with the link which will enable you to deactivate the "price monitoring" function at any time. If you are no longer interested in following a given product, just click on the link.
Have a Question

»
DO YOU HAVE QUESTION about the Product Krugerrand 1/10 Oz - Gold Coin - 10 pcs?
SIMILAR PRODUCTS
---
---
LAST UPDATE OF PRICES
13.12.2019 12:20:03
immediate fixation at the current price
fixation takes place 24/7
delivery of the goods the next day after sending
personal collection in Bratislava and Trenčín
prices on our site are updated every minute, are final and valid at the time of the order
for regular customers, however, we are also available outside working hours, including weekends and holidays
products labeled "In stock" we generally shipped on the day of the payment to the bank account, other goods are shipped during 3-7 working days
packages are sent in a special security cover and insured for the full value of the goods
office Bratislava - Seberíniho 9, office Trenčín - Legionárska 2
X
GOLD EUR/OZ
SILVER EUR/OZ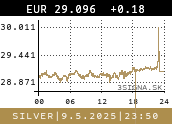 PLATINUM EUR/OZ