Last
UPDATE OF PRICES
:
04.12.2023 18:18:02
Goldseed / MultiDisc 10 x 1g - Gold Bar 696,73 €

Argor Heraeus 1 Oz - Gold Bar 1 940,88 €

CombiBar 50 x 1g - Gold Bar 3 272,72 €

Britannia 1 Oz - Gold Coin 1 958,20 €

Kangaroo 1 Oz - Gold Coin 1 954,45 €

CombiBar 100 x 1g - Silver Bar 193,99 €

Arche Noah 1/4 Oz - Silver Coin - 500ks 4 781,03 €

Philharmoniker 1 Oz - Silver Coin - 500 pcs 15 900,35 €
Philharmoniker 1 Oz - Silver Coin - 500 pcs
Producer:
Münze Österreich (Austria)
Weight:
15,55kg
Fineness:
999
Dimensions:
37 x 3 mm
Denomination:
1,5EUR
Availability:
in stock limited
PRODUCT DETAILS
Very popular and recognized silver coin Wiener Philharmoniker 1 Oz, minted from pure 999 silver since 2008. Name of the coin – Wiener Philharmoniker – can be translated as "musician from Vienna Philharmonic Orchestra".
This coin is minted in Austrian Mint in Vienna (Münze Österreich), which have produced coins for investors, collectors, and ordinary circulation coins for the past 800 years. The foundation of Münze Österreich dates back to 1194. In the times of the Austrian-Hungarian Empire its primary use was to mint crowns, gold guilders, dollars, or ducats. Currently, the mint boasts the range of high-quality modern machinery that can produce up to 750 coins in a single hour. Due to its history, tradition and non-decreasing productivity, the Austrian State Mint has now become legendary. Despite privatization in 1989, it remains the only official Mint of Austria with the headquarters in Vienna. Its sole shareholder is the Austrian National Bank.
The obverse side of the Philharmoniker 1 Oz coin depicts the largest organ in the Golden Hall of the Vienna Philharmonic Orchestra. The reverse depicts musical instruments symbolizing the world famous orchestra - the Vienna Philharmonic - one of the cultural symbols of Austria and the oldest music school in the world.
Unless specified in the product name, the minting year of silver coins is not distinguished.
Price Monitoring

»
PRICE MONITORING
To get the information about changing product price, please fill in the required information. You will be automatically notified by e-mail.
Each product is monitored for 20 days. After this period tracking is automatically cancelled.
When activated, you will receive an automated message with the link which will enable you to deactivate the "price monitoring" function at any time. If you are no longer interested in following a given product, just click on the link.
Have a Question

»
DO YOU HAVE QUESTION about the Product Philharmoniker 1 Oz - Silver Coin - 500 pcs?
---
---
LAST
UPDATE OF PRICES
04.12.2023 18:18:02
immediate fixation at the current price
fixation takes place 24/7
delivery of the goods the next day after sending
personal collection in Bratislava and Trenčín
prices on our site are updated every minute, are final and valid at the time of the order
for regular customers, however, we are also available outside working hours, including weekends and holidays
products labeled "In stock" we generally shipped on the day of the payment to the bank account, other goods are shipped during 3-7 working days
packages are sent in a special security cover and insured for the full value of the goods
office Bratislava - Seberíniho 9, office Trenčín - Legionárska 2
X
GOLD EUR/OZ
SILVER EUR/OZ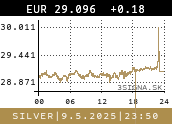 PLATINUM EUR/OZ