Last
UPDATE OF PRICES
:
25.09.2022 09:54:02
CombiBar 50 x 1g - Gold Bar 2 947,00 €

Argor Heraeus 100g - Gold Bar 5 647,79 €

Britannia 1 Oz - Gold Coin 1 790,13 €

Maple Leaf 1 Oz - Gold Coin 1 807,49 €

Kangaroo 1 Oz - Gold Coin - 10 pcs 17 867,37 €

CombiBar 100 x 1g - Silver Bar 188,63 €

Argor Heraeus / Heraeus 1 kilo - Silver Bar 899,71 €

Britannia 1 Oz - Silver Coin - 100 ks 2 929,00 €
Britannia 1 Oz - Silver Coin - 100 ks
Producer:
The Royal Mint Ltd. UK (United Kingdom)
Weight:
3,11kg
Fineness:
999
Dimensions:
Ø 38,6 mm
Denomination:
2GBP
Availability:
In Stock
PRODUCT DETAILS
Silver coin Britannia 1 Oz is not only regarded as an investment coin, but thanks to the annual change in design it is also appreciated by collectors. Design of the coins varied in the years 1997 - 2006, since 2006, however, remains the same.
Coin was minted to 2012 with fineness of 958, from 2013, the British Royal Mint in United Kingdom uses pure silver 999.
The obverse side of the coin features a profile of Queen Elizabeth II. On the reverse side is the personified symbol of Great Britain in the form of a young woman in Corinthian helmet, with armorial shield and trident of Poseidon in hand. Britain legendary figure symbolizes strength and unity of the British people since the time of the Roman Empire.
Unless specified in the product name, the minting year of silver coins is not distinguished.
Price Monitoring

»
PRICE MONITORING
To get the information about changing product price, please fill in the required information. You will be automatically notified by e-mail.
Each product is monitored for 20 days. After this period tracking is automatically cancelled.
When activated, you will receive an automated message with the link which will enable you to deactivate the "price monitoring" function at any time. If you are no longer interested in following a given product, just click on the link.
Have a Question

»
DO YOU HAVE QUESTION about the Product Britannia 1 Oz - Silver Coin - 100 ks?
---
---
LAST
UPDATE OF PRICES
25.09.2022 09:54:02
immediate fixation at the current price
fixation takes place 24/7
delivery of the goods the next day after sending
personal collection in Bratislava and Trenčín
prices on our site are updated every minute, are final and valid at the time of the order
for regular customers, however, we are also available outside working hours, including weekends and holidays
products labeled "In stock" we generally shipped on the day of the payment to the bank account, other goods are shipped during 3-7 working days
packages are sent in a special security cover and insured for the full value of the goods
office Bratislava - Seberíniho 9, office Trenčín - Legionárska 2
X
GOLD EUR/OZ
SILVER EUR/OZ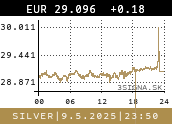 PLATINUM EUR/OZ